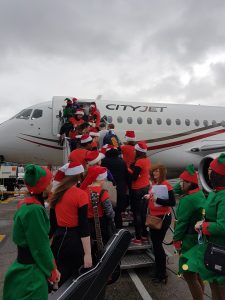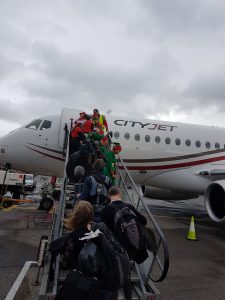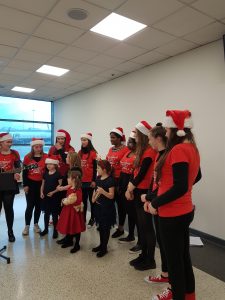 It was a day to remember for over 30 children from Temple Street Children's Hospital in Dublin as they embraced Christmas when they took to the skies above Ireland in search of Santa.
In the company of their families, the children were guests of CityJet as its special Santa Express departed Dublin to check on how Santa's preparations were progressing. With the help of Santa's little helpers and his elves, the children enjoyed Christmas carols, face painting and party games before flight departure and a party afterwards at the airport.
On hand to help were pupils from Loreto Secondary School, Balbriggan, and pilots, cabin crew and ground staff from CityJet. Special guest of honour was TV3 Weatherman and Sixoclockshow presenter,  Martin King.
Denise Fitzgerald , CEO, Temple Street Foundation, said:   "On behalf of all of us here in Temple Street, I would like thank CityJet for this special day and for helping our patients make wonderful memories and experience a little Christmas magic at a difficult time in their lives."
CityJet Executive Chairman, Pat Byrne, said: "This is the highlight of the year for our staff. We love being involved in such a small way to bring some Christmas happiness to wonderful boys and girls and their loved ones. This year marks the 15th year CityJet has been involved with Temple Street and we value the opportunity of making and sharing Christmas memories."
TV3's Martin King said: "What a wonderful, joyous occasion. The staff at Temple Street  do such great work and it is always inspiring to have the opportunity of contributing to such a lovely Christmas event and witnessing the delight in the children's faces."