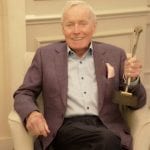 Feargal Quinn has been named The Community Foundation for Ireland National Philanthropist of the Year 2019 at an event in Dublin today.
The businessman and former Senator was honoured for his work over many years in assisting community groups, helping charitable causes and giving back to society through his Quinn Family Foundation.
Other winners at the awards – the 11th since its foundation – were the Kerry Group (Corporate) and the Katharine Howard Foundation (Brian Wilson Award). The awards recognise and celebrate extraordinary leadership and generosity in the area of philanthropy.
Speaking at the awards event today in the Westbury Hotel, Dublin, Tina Roche, Chief Executive, The Community Foundation for Ireland, said society should not underestimate the positive role philanthropists play in raising awareness of the value and impact of strategic giving.
The CEO said: "Our goal in establishing the awards was to acknowledge and celebrate those individuals, organisations and corporate bodies who give back to community and society at large, strategically and over the long term. Since our establishment in 2000, The Community Foundation for Ireland has had the long term ambition to grow a strategic philanthropic ethos within Ireland and build a long term perpetual fund to support charitable causes and communities."
"I believe our awards' trophies sums up our purpose – representing how if you give a man a fish you feed him for a day; teach him how to fish and you feed him for a lifetime," she said.
"Feargal Quinn, the Kerry Group and the Katharine Howard Foundation have shown through their positive impact at home and abroad how giving back enriches not alone those who receive but also those who give," she added.
Among the citations honouring Feargal Quinn, founder of Superquinn, former Senator and former Chairman of An Post, was one from the Family Support Network. Sadie Grace, CEO, Family Support Network, said that the Quinn Family Foundation had been "forward thinking and brave" in supporting families who had been impacted by substance misuse.
The Kerry Group award followed nominations from Concern Worldwide, Special Olympics (Europe/Eurasia) and a UK and Indian charity, the Noon Memorial Trust. Dominic McSorley, CEO Concern Worldwide, said that Kerry had donated €1.25m over five years to transform lives in Zambia and in 2018 committed a further €1m to support Concern's work in Niger.
The Katharine Howard Foundation (KHF), established in 1979, works closely with children and families by supporting community projects and initiatives in disadvantaged locations. Its recent strategic projects included grant aiding parents with young children in helping develop parenting skills.
Since 2000, The Community Foundation for Ireland has disbursed grants and assistance of €44m, including €7.5m in 2018 alone.