It was double joy for over 30 children from Temple Street Children's Hospital in Dublin as they embraced Christmas when they took to the skies above Ireland in search of Santa and also had the opportunity to hold the Sam Maguire trophy.
In the company of their families, the children were guests of CityJet as its special Santa Express departed Dublin to check on how Santa's preparations were progressing. With the help of Santa's little helpers and his elves, the children enjoyed Christmas carols, face painting and party games before the flight departed and a party afterwards near the airport.
Special guest this year was Dublin footballer Brian Fenton who brought along the Sam Maguire trophy.
Helping out were pupils from Loreto Secondary School, Balbriggan, St Peter's Male Voice Choir, Drogheda, and pilots, cabin crew and ground staff from CityJet.
Denise Fitzgerald , CEO, Temple Street Foundation, said:   "Christmas is such a special time and that's why the CityJet Santa Flight is a real highlight in our Christmas calendar. The flight is an unforgettable experience and brings so much joy to the children and their families. On behalf of all of us here in Temple Street I'd like to thank CityJet for helping to create some magical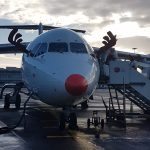 memories."
Brian Fenton said: "It is wonderful to be part of what has become almost a Christmas tradition. The children are inspiring and it has been my privilege to bring Sam to the airport and to share in what is a lovely and joyful experience."
CityJet Executive Chairman, Pat Byrne, said: "We love being involved in such a small way to bring some Christmas happiness to wonderful boys and girls and their loved ones. This is our 16th year searching the skies for Santa and thanks again to all at Temple Street for allowing our staff to help create Christmas memories."