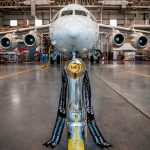 First-ever Guinness PRO14 Final takes place in Dublin on May 26 and throughout all six games of the Final Series CityJet will partner the Championship ahead of what will be an historic climax at Aviva Stadium (see www.ticketmaster.ie).
Fans of the Guinness PRO14 will be able to experience the benefits of this exciting partnership with CityJet providing exclusive discounted offers on tickets for the Guinness PRO14 Final, access to the Captain's Run ahead of the big game while everyone stepping onto a CityJet flight will have the opportunity to win tickets to the Final Series.
CityJet operates up to eight flights daily between Dublin and London City airports and offers complimentary drinks, snacks, free seat selection and bag in hold.
Dermot Rigley, Commercial & Marketing Director, PRO14 Rugby was especially pleased to  welcome CityJet to the Championship, saying: "Our partnership with CityJet is just the latest illustration of the appeal that the Guinness PRO14 has for premium brands as we continue to go from strength to strength after expanding into South Africa.
"Along with our attendances, our audiences across TV and digital have all grown significantly while the reaction to our new broadcast partnerships has been hugely positive.
 "As the Championship has spread its wings, it's quite fitting that our Official Airline for the Final Series should be one with a proven track record such as CityJet. When it comes to our partnerships we believe in teamwork to deliver the best result for our fans.
"We embrace innovation and recognise it in partners such as CityJet, which is a modern brand with a fantastic team of airline professionals serving routes in Europe and in particular the Dublin to London City Airport schedules.
"We have six thrilling games to look forward to in the Guinness PRO14 Final Series, including a Play-Off for a place in next season's European Champions Cup. Leinster and Cardiff Blues are representing the Championship in this year's European Finals in Bilbao which is a great indication of the calibre of rugby in the Guinness PRO14."
Pat Byrne, Executive Chairman, CityJet, said: "We are delighted to come on board as the Official Airline of the Guinness PRO14 Final Series. We have always been very supportive of sport and rugby, in particular, and are official partner to Leinster Rugby.
"We provide unrivalled services to London City Airport, the only airport actually in London which enjoys ease of access and links throughout the city thanks to Docklands Light Rail. The traveller experience at London City Airport is like no other, with the airport entrance literally a 10-minute walk from the steps of the aircraft.
"We join with our friends in the Guinness PRO14 in looking forward to a Final Series which promises great drama across six games and an atmosphere in Dublin which will set the pulses racing. And for any rugby fans travelling from the London area, then we will be only too pleased to welcome them on board on the official airline of the Guinness PRO14 Final Series."