A new planning study released today strongly advocates the granting of city status to Drogheda, making it the fifth largest in the State and providing it with administrative structures to underpin sustainable economic growth and development.
The report from Dr Brian Hughes, a chartered planning and development expert, says the latest figures from the 2016 census point to a population of over 83,000 in the Greater Drogheda Area, in effect twice the size of Co. Longford and larger than Waterford City.
The report was commissioned by Drogheda City Status group which has been campaigning for over a decade to end what it claims is the "nightmare" dual administration of the town and its rapidly expanding satellite communities.
The detailed report has also been submitted for inclusion in the Government's National Planning Framework.  A final decision is due presently on a framework plan which will guide planning decisions up to 2040.
A copy of the report has been presented to the former Minister for Housing, Planning and Loca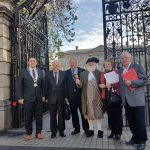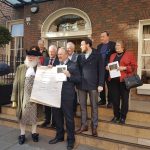 l
Government, Simon Coveney TD, currently the Minister for Foreign Affairs and Trade. He was also briefed on the report at Leinster House last week. The Drogheda City Status Group said they were "stood up" by current Housing and Planning Minister, Eoghan Murphy TD, after he cancelled a meeting at the eleventh hour during their visit to Leinster House last Thursday.
The Drogheda City Status report highlights how the former Municipal Borough of Drogheda, together with the adjoining Louth and Meath rural areas, have increased in population by almost 80% between 1996-2016. The population has risen from 46,451 to 83,042 at a time when the average national increase was 31.22%.
The area earmarked for city status includes the borough of Drogheda and the rapidly expanding towns of Laytown, Bettystown and Mornington (LBM) in east Meath, which now boast in excess of 10,000 people and is expected to reach 15,000 or more by the next census in 2021.
Crucially, the report pinpoints how Drogheda/LBM fulfils the criteria laid down by the EU Commission and the OECD for city status because of population density per kilometre and it numbers in excess of 50,000 people.
The Chairman of Drogheda City Status group Vincent Hoey said: "We are living in an urban conglomeration of over 80,000 people but we have no effective joined up thinking to plan sensibly for the future because our local Government is divided between Co Meath and Co Louth. Drogheda lost its town council and we urgently need to be given city status so that we can have a city council that can best plan for the sustainable future growth of the region, provide housing, create jobs and nurture business."
He said: "This is not some kind of a county land grab. Co Louth will remain Louth and Co Meath remains Meath but an urban density this size requires a city administration to make the place work."
"Drogheda was ignored in the 2002 National Spatial Strategy which was designed to develop gateway towns and hubs but ended up being a massive fudge with one for everyone in the audience approach. Our fear is the same thing is happening all over again and the next plan will avoid the hard and sensible decisions to give city status to a town like Drogheda."
The report's author, Dr Brian Hughes, said: "The Belfast Dublin economic corridor is growing at a major pace. Drogheda, thanks to its air, motorway, sea and rail links, is growing faster than anywhere else along this corridor. But we look like we are going to repeat the sins of the past by not providing practical, administrative urban districts."
"What worries me is the published draft framework proposal ignored Drogheda's city status request. This despite the fact that in seeking submissions, the Government said the final policy would be based on evidence. They have the evidence in this report. They need to act and act now."