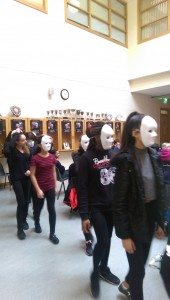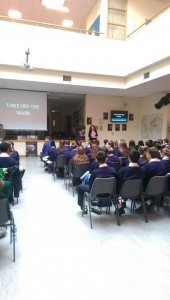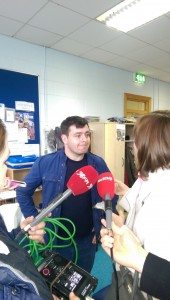 Love Hate actor Laurence Kinlan today praised young people from Dublin's inner city for helping in the battle against anti-social behaviour.
The actor, who played Elmo in the gritty gangland series, said great credit was due to the young students from Larkin Community College, Cathal Brugha Street, for producing a one minute video which focuses on young people becoming "the face of their community" and standing up to anti-social behaviour.
He said: "I am from this area and I attended Larkin Community College and I am aware of many of the problems which deprivation can impose on communities. It has been wonderful to return to this school and see the great work being done by teachers and students and their focus on good citizenship and giving back to the locality."
"Tragically, this part of inner city Dublin has been in the headlines for all the wrong reasons in the past week. It is lovely to acknowledge the great work being carried out by Localise, the school and its pupils and teachers," he added.
The video is the brainchild of 30 Arts scholarship students who challenged themselves with tackling anti-social behaviour. It was produced with the assistance of local senior citizens over recent months and is entitled: 'Be the Face of Your Community."
The students have uploaded the video to YouTube and plan to forward it to all secondary schools nationwide for sharing online.  It was made with the assistance of Localise, a youth and community development organisation. Since the inception of Localise 40 years ago, the equivalent of over €40m community service work has been provided by young people.
Localise Director Derek Cleary said: "This project is an excellent example of how young people can make a real difference in their community. The video they have produced is an inspiration to others and a clear message that together we can be a positive force in our community."
Ends
The video is available by cutting and pasting this link:  https://youtu.be/n3-HVYKWu5Y