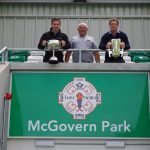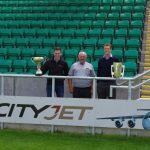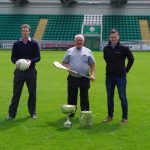 CityJet, the Irish European regional carrier, has become the official airline of London GAA and has announced its second season of sponsorship of London GAA's senior championships this year.
CityJet, which has its major hub at London City Airport, is to continue as title sponsors of both London senior football and senior hurling championships. CityJet flies up to seven times daily each way on the Dublin/ London City route.
London GAA is affiliated to Ireland's major national sporting organisation, which boasts hundreds of thousands of players and members, mainly in Ireland but also with affiliates across the globe. Active GAA players in Britain now number in excess of 12,500.
Making the announcement, Cathal O' Connell, CityJet's Chief Commercial Officer, said: "London GAA is at the heartbeat of the Irish community in the capital and as an organisation it plays a pivotal role in the lives and welfare of thousands of Irish people. Player numbers are increasing all the time and the GAA now has an active programme in third level colleges in the UK."
"As an airline that serves the Irish community in London, we are delighted to renew our sponsorship of the London GAA senior championships. The GAA works successfully in bonding Irish people together when abroad but also in integrating them with their neighbours and the wider community," he added.
London GAA secretary, Mark Gottsche, said: "London GAA is delighted to have CityJet on board once again as the title sponsors of the London Senior Football and Hurling Championship for 2017. CityJet, through its schedule at London City Airport, serves thousands of Irish people and we are especially delighted to have an internationally recognised brand working in partnership with us in the promotion of our games and competitions here in London."
"Our Inter County Teams for National League and Championship fly CityJet to games in Ireland. We look forward to working closely with CityJet over the coming year in what promises to be another exciting season in the Senior Football and Hurling Championship in London."
The London GAA championships gets underway on the weekend of 29th July, with games in the CityJet senior hurling championships; the CityJet senior football championships commences on 13th August. The competitions run until the end of October.