CityJet, the European regional airline, has announced it will increase its schedule for 2017 and operate additional flights on its service from London City Airport to Toulon Côte d'Azur, commencing on the 8th April, 2017, and concluding on the 26th October, 2017.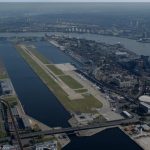 The airline will fly three times weekly return on the London to Toulon Côte d'Azur route: Saturday, Tuesday and Thursday.  CityJet will operate the flights on 95-seat Avro RJ85 aircraft and provide passengers with complimentary checked luggage and complimentary drinks and snacks on board.
CityJet's Chief Commercial Officer, Cathal O' Connell, said: "We are delighted to again offer scheduled direct flights this summer from the heart of London to Toulon Côte d'Azur."
"We are pleased to team up with Toulon Airport in providing this important Summer schedule and look forward to welcoming everyone on board. Flights are available to book now on www.cityjet.com," he added.