The Department of Foreign Affairs and Trade is hosting a major Heads of Missions summit in Hanoi in Vietnam this month as the Government scales up its plans to expand and develop Ireland's footprint in the Asia Pacific region.
The Secretary General of the Department of Foreign Affairs and Trade, Niall Burgess, informed a gathering of business leaders, aviation managers, investors and ambassadors from the region that 15 Heads of Mission from Ireland would be attending the summit which will focus on developing and expanding Ireland's presence in the region which is a commitment of Taoiseach, Leo Varadkar TD.
Mr Burgess told the briefing at Iveagh House, which was organised by Asia Matters, Ireland's only think tank on Asia, that the Government wants to double Ireland's global footprint by 2025. "At a time of change we can either look inward or look outward. We are focusing on Asia Pacific at a time when distance is less of a challenge, "the Secretary General said.
The Secretary General contrasted when he joined Foreign Affairs in 1984, Ireland had four missions in Asia Pacific – Australia, Japan, India and China. Currently that number is to expand to 15, including a major investment in "Ireland House" in Tokyo, which will be used to showcase Irish goods, culture and tourism in a purpose- built centre which is expected to open in late 2020.
"Our focus is on Asia Pacific. Since I came into the role of Secretary General I have spent more time in Asia Pacific than in North America. Last year alone, 18 Government Ministers visited the region," he said.
He added that they would continue to priorities foreign language skills and Asian specialisms when sourcing next generation diplomats.
Asia Matters Executive Director, Martin Murray, told the gathering that later this year the organisation will launch an Expert Member Working Group on foreign direct investment location competitiveness. Asia Matters recently published a report in association with PwC on "Opportunities for Asian Expansion."
 Our picture shows HE Anizan Adnin, Ambassador of Malaysia to Ireland; Niall Burgess, Sec General, DFA; HE Dr Xiaoyong Yue, Ambassador of China to Ireland; HE Mari Miyoshi, Ambassador of Japan to Ireland, and Martin M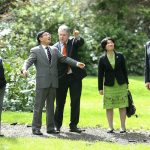 urray, Asia Matters.