CityJet, the Irish European regional airline, today took delivery in Italy of its first Superjet  SSJ100 aircraft.
At a ceremony in Venice, CityJet's Executive Chairman, Pat Byrne, and Chief Commercial Officer, Cathal O' Connell, were present to accept formal delivery of the airplane which has been described by Mr Byrne as a "game changer." CityJet becomes the first European airline to operate the Superjet SSJ100. CityJet will lease 15 Superjet SSJ100 aircraft with an option for an additional 16. The deal is worth over 1 Billion USD, including option and after-sales services.
Pat Byrne, Executive Chairman of CityJet, said: "The delivery of our first Superjet SSJ100 is an important milestone for CityJet as we begin our fleet renewal programme. This is a fantastic aircraft and we look forward to introducing our customers to its high levels of comfort and efficiency in the coming years".
Nazario Cauceglia, Chief Executive Officer of SuperJet International, said: "We are very proud because CityJet is a reputable operator in the heart of Europe. This achievement highlights the development of the Superjet SSJ100 Programme in Europe and in the international scenario. We know that the new customers are closely following us, focusing on the high advantages of the SSJ100 product and our robust and dependable technical support centralized in Europe".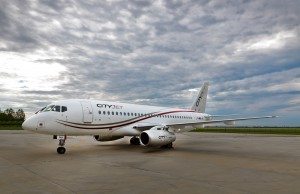 SuperJet International is a joint venture between Sukhoi Civil Aircraft Company and Finmeccanica Company of Italy. The ceremony was held in Venice at the SuperJet International's premises where the first two Superjet SSJ100s in the CityJet livery were unveiled.
Dublin-based CityJet operates from key airports in Europe, including London City Airport. The airline expects take delivery of three aircraft in 2016, with the remainder from 2017 onwards.  The inaugural aircraft unveiled today is expected to be delivered to Dublin early in June with the second arriving in mid-June. The Superjet SSJ 100 achieved European Aviation Safety Agency (EASA) certification in 2012.
The CityJet aircraft is in the 98-seat configuration with an exclusive interior designed by Pininfarina, five abreast seating in a generous 32" seat pitch combining with a wider seat and cabin height of over 2m.
SuperJet International will also provide CityJet with the technical support through a SuperCare agreement for 12 years.  CityJet crews are being trained at the Training Center in Venice.