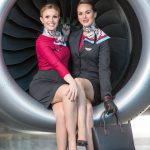 CityJet has been named Regional Airline of the Year at a ceremony in Berlin last night.
The airline took the top regional award at the CAPA Aviation Awards at the world aviation outlook summit in Berlin. The award is presented by CAPA – the centre for aviation – one of the world's most trusted sources of market intelligence for the aviation and travel industry. The award is presented to the regional airline that has been the best performer strategically, has established itself as a leader and demonstrated innovation in the regional aviation sector.
CityJet was selected for its successful strategic transformation that has resulted in its emergence as Europe's leading third party provider of regional airline capacity under ACMI/wet lease arrangements where airline's provide aircraft, crew, maintenance and insurance for other carriers.
Other winners at the global awards were Qantas (airline of the year), WOW (low cost airline), Orlando (large airport over 30m passengers) and Air Malta (turnaround airline).
Since 2015, CityJet has been transforming its business from being primarily a scheduled service provider into an exclusively wet lease airline supplying services to airlines across Europe. Today, CityJet's fleet of 44 aircraft fly on behalf of major airline customers including Aer Lingus, Air France, Brussels Airlines and SAS.
CAPA also noted that CityJet has emerged as a leading consolidator in the European regional airline market, having acquired Finnish airline Blue1 in 2015 and Danish airline Cimber Air in 2017, both from SAS. Last July, CityJet pursued further consolidation by announcing a proposed merger with Spanish carrier, Air Nostrum, that would create Europe's largest regional airline.
"CityJet has pioneered a new vision of regional airline operations in Europe, focusing on third party wet leasing to offset revenue risk and driving consolidation in pursuit of greater efficiency," Mr Peter Harbison, Executive Chairman of CAPA said.
Collecting the award on behalf of CityJet, Chief Executive Pat Byrne commented "We set out on a journey to transform CityJet a few years ago and today have over 1,300 staff employed across nine countries in Europe, all of whom have contributed to the delivery of our strategy. I thank them and all of our customer airlines and look forward to many more years of leading the way in Europe".
CAPA – Centre for Aviation – was launched in 1990 with a mission to make a strategic difference in aviation knowledge, delivered with the highest levels of intellectual integrity. CAPA is renown for its world-class industry conferences and industry analysis, including its CAPA Airline Leader Summit held annually at Powerscourt, Co. Wicklow.  CAPA's Aviation Awards for Excellence are intended to reward airlines and airports that are not only successful but have also provided industry leadership in adjusting to a new environment.