CityJet, the European regional airline, is commencing a major recruitment drive for its new base in Tallinn, Estonia, as the carrier expands its presence in Scandinavia, Northern Europe and the Baltics.
The airline has recently increased its network of supplying aircraft for other carriers – known as ACMI (aircraft, crew, maintenance and insurance or "wet lease") – and is offering new posts for pilots and cabin crew. In total, CityJet will employ over 40 crew members in Tallinn, where it will base two 90-seat Bombardier CRJ passenger jets to operate services on behalf of its customer wet lease airline.
CityJet Executive Chairman Pat Byrne said: "We are significantly growing our operations in Europe which reflects on our transition from being primarily a scheduled airline to providing wet lease services for some of Europe's main carriers.  We now have over 40 aircraft with 1,250 staff operating out of 10 bases across Europe."
"Our Tallinn base recently opened and we continue to recruit pilots and crew there to service routes across the Baltic and northern Europe. We have significant opportunities for air crew operating out of Tallinn on short haul routes."
CityJet, which has its headquarters in Dublin, is the second largest independently owned regional airline in Europe. It was established by Mr Byrne in 1993. For over 15 years the airline was owned by Air France but Mr Byrne and international investors acquired ownership of the airline in March 2016.  CityJet still operates scheduled services, mainly on its Dublin to London City Airport route, but increasingly provides ACMI facilities for a range of carriers including SAS, Brussels Airlines, Air France and KLM. Wet lease services now account for 90% of its operations.
It acquired the regional Finnish airline Blue1 from SAS in October, 2015, and Cimber A/S, another regional carrier operating in Denmark in January 2017.
The airline's fleet includes 25 CRJ900 aircraft, 14 RJ85 and six  SSJ100 Superjets operating from bases in Amsterdam, Brussels, Copenhagen, Dublin, Helsinki, London, Paris, Stockholm, Tallinn and, soon, Vilnius.
Mr Byrne said: "As an airline we operate very much as a family. We believe in team spirit and we offer great terms and conditions for our employees. Pilots and aircrew will be able to join an airline which continues to expand and will provide opportunities both in Estonia and our other bases across Europe."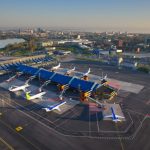 CityJet is also recruiting for crews at its other bases across Europe and interested candidates should check www.cityjet.com for job information.