CityJet, the Irish European regional airline, today announced that it is to recruit an additional 10 trainee pilots for entry into its "Climb High" mentored pilot training programme managed by CAE Oxford Aviation Academy.
CityJet and CAE Oxford Aviation Academy are seeking highly motivated candidates aspiring to rise as professional pilots within one of Europe's fastest growing airlines. Successful candidates can expect world class training to the highest standard from CAE, the world's leading pilot training organisation, and the opportunity to begin their flying career as a First Officer with CityJet.
Selected cadets will complete an Integrated ATPL Training Course at CAE Oxford Aviation academies in Oxford, UK, and Phoenix, Arizona, USA. The cadet programme is designed at ensuring CityJet has sufficient, qualified pilots for its existing and new routes and its mix of aircraft. The airline operates crew bases in Amsterdam, Brussels, Copenhagen, Dublin, Helsinki, London, Paris, Stockholm, Tallinn and Vilnius.
CityJet's General Manager of Flight Operations, Robert Campbell Smith, said: "Our mentored cadet pilot programme provides the starting point for an exciting career path for the successful applicants with us. CityJet continues to see significant expansion, particularly on our wet lease operations where our crews and aircraft operate for our customer airlines. Our fleet includes the 90-seat Bombardier CRJ-900, 98-seat Superjet SSJ100 and our 95-seat Avro RJ85 aircraft which continue to serve us well."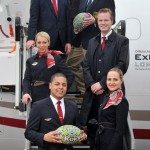 "With all three aircraft types providing opportunities throughout our extensive European pilot bases, this is an exciting time to be joining our growing airline. We look forward to welcoming our new recruits to our Cadet programme later this year".
CityJet is proud to partner with CAE Oxford Aviation Academy to provide the initial training for the CityJet Cadets. CAE Oxford Aviation Academy has a long -standing history in training excellence and has established itself as one of the leading training providers in Europe. The training will take place in Oxford and Phoenix, Arizona (USA).
Details on the recruitment programme available at: www.cae.com/cityjet
ends