CityJet today announced the acquisition of Cimber A/S, the Copenhagen-based subsidiary of SAS (Scandinavian Airlines) and has won a major six year wet lease contract from SAS to operate regional services from Copenhagen, Denmark.
CityJet's current wet lease contract with SAS will increase from three years to six years and the Irish airline has also placed an order for up to 10 new CRJ900 jets.
The acquisition of Cimber and the wet lease contract come into effect from January 31st, when CityJet will take control of Cimber and will continue to operate its Copenhagen network on behalf of SAS using Cimber's current fleet of 11 Bombardier CRJ900 aircraft.  Also on this date, CityJet will confirm an order for up to 10 new CRJ900s, which will be used in wet lease production for SAS and to replace the current Cimber A/S aircraft during 2017 and 2018.
Cimber A/S operates services on behalf of SAS to more than 30 European destinations.
CityJet's existing wet lease contract with SAS, under which it operates eight CRJ900 jets based in Stockholm and Helsinki, has also been extended to a six year agreement. This fleet will increase to 12 CRJ900 aircraft in March 2017 with the delivery of four additional aircraft ordered in 2016.
With the addition of the Cimber aircraft, CityJet's fleet of CRJ900 jets will increase to 23 this summer.  The CRJ900 fleet will be operated exclusively on behalf of SAS, with all aircraft in SAS colours and crewed by CityJet staff.
Major components of the CRJ900 are manufactured by Bombardier Aerospace in Belfast.
CityJet Executive Chairman Pat Byrne said: "This new SAS contract and the growth delivered by the acquisition of Cimber advances CityJet's stated strategy of building its role as a provider of regional jet capacity to airlines across Europe and follows our successful inauguration of services on behalf of SAS in March 2016. We welcome the new staff members of Cimber Airways into the CityJet family, joining the 870 current employees, which already include almost 200 based in the Nordic region."
"We are delighted to be building on our strong relationship with our valued customer SAS and look forward to many more years of safe and reliable service on their behalf."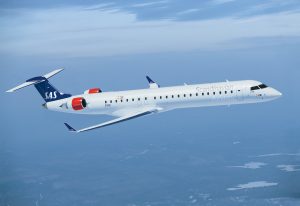 Rickard Gustafson, SAS's President and CEO, said : "With the sale of Cimber we expand our cooperation with CityJet – one of our key strategic partners on regional traffic. The agreement allows us to fly more routes and maintain a large network with frequent departures. Thanks to the synergies between CityJet and Cimber, we expect to lower the costs of production, which is a prerequisite for us to maintain and develop regional routes for the benefit of our customers."
Since becoming independent in 2014, CityJet has seen continual growth across its network, and will carry almost three million passengers this year on its scheduled services, charter services and wet lease services on behalf of partner airlines. Including the recently announced wet lease contract with Brussels Airlines, CityJet will this summer operate 30 aircraft on behalf of wet lease customers.
Prior to the Cimber acquisition, CityJet employed over 870 staff, an increase from 510 in September 2015, with bases in Amsterdam, Dublin, Helsinki, London, Stockholm and Paris.