Asia Matters, Ireland's only Think Tank on Asia, has welcomed the announcement that for the first time there will be direct flights between Ireland and China.
Hainan Airlines is to begin direct flights between Beijing and Dublin from June in a move which Asia Matters believes could be a "game changer" in significantly expanding trade and tourism between both countries. 
Asia Matters Executive Director Martin Murray said: "Coming on top of the announcement previously of direct flights between Dublin and Hong Kong, this news is a major boost for Ireland and for those of us who have been advocating for several years that we need to build on our growing relationships in Asia and particularly China." 
Asia Matters has hosted an annual Chinese Tourism Summit for the last three years on how Ireland can learn from the best practice experience of other countries in boosting economic growth through direct flights and visa facilitation. He said they also welcomed two new entry visas for Chinese citizens that have been introduced by the Department of Justice as part of efforts for greater integration. One of the visas is a three-year multi-entry visa for business and tourist applicants and the other is a five-year visa for Chinese citizens who have ongoing business concerns in Ireland. 
Mr Murray said: "Trade between Ireland and China is now worth about €16 billion. There are huge opportunities in Asia and China. For instance, Irish food and drink exports to China have increased six fold in last six years. China has become the third largest market for Irish food and beverages, and the second for Irish dairy and pork products." 
He said: "China is the world's leading outbound tourism market. The number of outbound travellers rose 6% to 135 million in 2016 with Chinese tourism spend up 12% to €240 billion. These flights alone will have the potential of carrying 60,000 passengers annually which would have the effect of doubling tourist numbers from China." 
He added that Credit Suisse, the investment bank, reported that, in 2015, for the first time, the size of China's middle class had exceeded that of America's middle class (109 million people to 92m).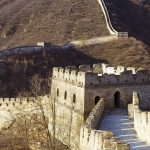 Tanaiste Simon Coveney made the announcement of the new direct flights during his visit to China this week. The direct flights commence on June 12th. The route will initially involve four Hainan Airlines flights per week originating in Dublin, with two non-stop to Beijing and two stopping in Edinburgh for a short stopover to pick up additional passengers before continuing to Beijing.
Direct flights to Hong Kong with Cathay Pacific commence on June 2 and will operate four times a week.